Re-homing & Welfare
The Bengal Cat Association are happy to advertise Bengals that need assistance being re-homed.
You can email our Welfare Officer on: bcawelfareofficer@gmail.com
UPDATED 28/11/18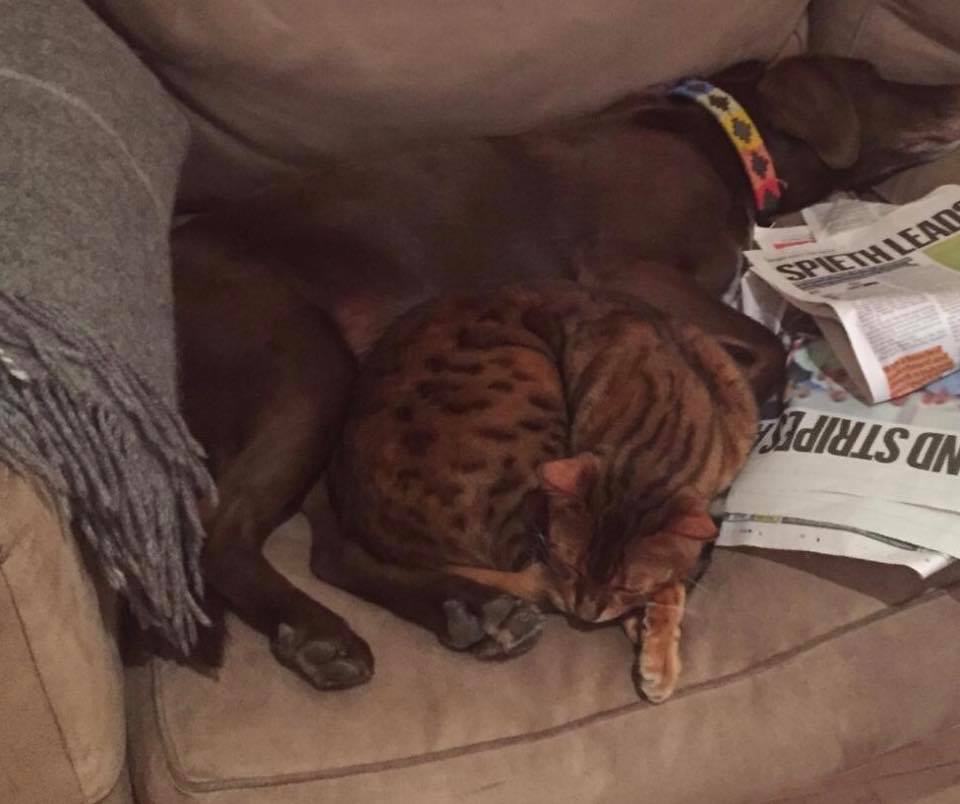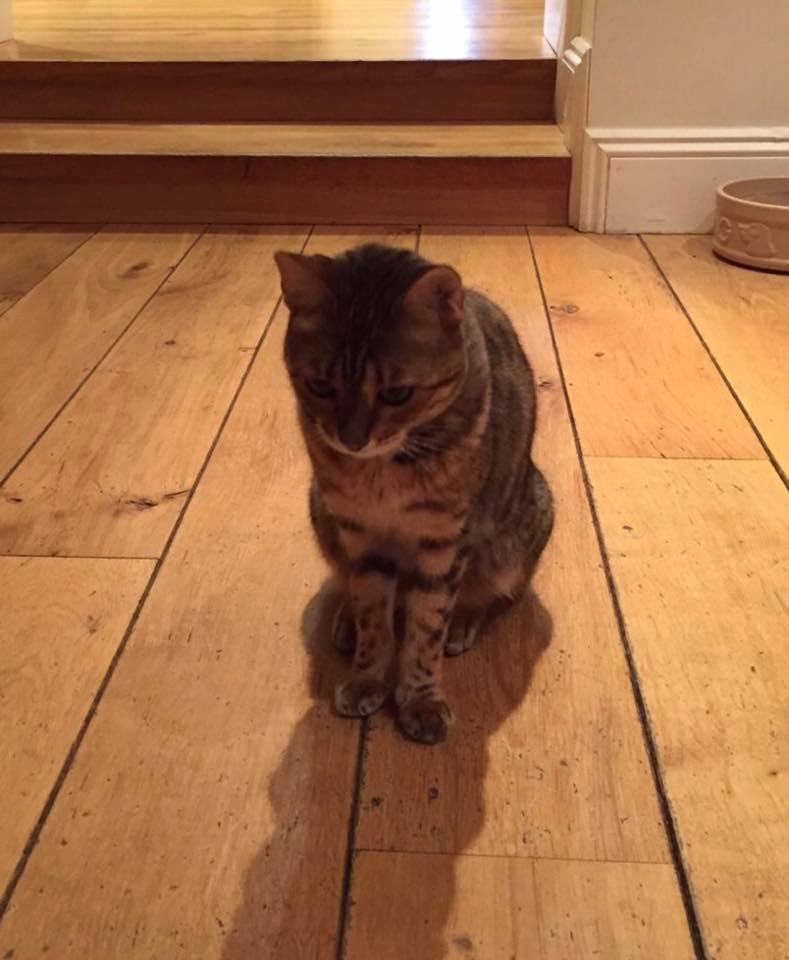 Forever home required
We are sadly in the situation where I have to rehome my beloved Bengal cats due to separation and relocation.
They are brother and sister, from the same litter, and are 9 years old.
They are both very good with children and dogs, having grown up with both.

Chui, the boy, is absolutely beautiful, and has the classic markings of a Bengal. He is quite vocal, but only when hungry!
Nala, is smaller, with the prettiest eyes, and still behaves like a kitten as she enjoys chasing real and imaginary things!
They are both very gentle and loving cats, and we are very sad to see them go. They are fully pedigree and micro chipped / wormed and neutered. Sadly their papers have been lost in the move, however, their breeder is available for a chat / email by request.

To good and loving homes only please. To ensure this, we are asking for a small donation, which will go to a rescue animal charity.
For more information please call me on
07966 488 475, or email me on
ohuxstep@gmail.com.
Hampshire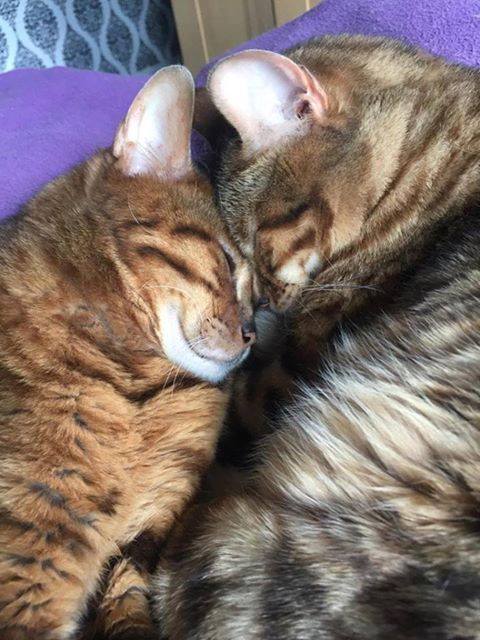 SUCCESSFULLY REHOMED
TWO BENGALS IN NEED OF NEW HOME TOGETHER
Max & Monroe, 1 Male, 1 Female, brown spotted Bengals, born 14.02.14. Both neutered, microchipped and up to date with their vaccinations and healthcare. Completely indoor cats, from a very loving home, totally house trained, always use a litter tray, no indoor accidents. Love to be around people, love being petted, brushed and stroked, even though they are adults, they are still playful. Never been around other animals, and have never been separated, so need to be rehomed as a pair, to, preferably, a pet free home.
Have deliberated over the need to rehome, for a long while, but continued illness in the home has pushed us to have to make this decision. They are my Daughters pets, & she has cared for them, since they were 9 weeks old- so is pretty devastated at the choice we have had to come to. I am looking for a £300 rehoming fee (£150 per cat) & only want contact from serious interested parties. Previous Bengal owners would be preferable.
Am in the Buckinghamshire area, contact Laura, lchines07@gmail.com or 07445689017, for any further information or questions.
Forever home needed for Poppy
We are looking for a forever home our 11 year old Bengal cat Poppy.
Poppy is a Neutered, microchipped female Bengal who loves to explore outside. All original pedigree paperwork held. She is very vocal and loves to talk, particularly to birds and animals seen through the windows where she chirps and squawks! Poppy is a social cat who loves being stroked and to be around people for company, although she is not a lap cat and doesn't particularly like being picked up. She loves to sit up high on her scratch post and watch to the world go by! She gets on well with our other cat; who is a house cat so could go to a home with another cat but she would have to be the dominant animal. Poppy has never been around dogs so would prefer no dogs but is fantastic with our toddler and is fine with children/babies.She has previously been vaccinated but these have now run out. She is currently insured with Petplan on their lifetime cover policy. Poppy does use a litter tray as well as outside for toilet.
Reason for re-home is that we are soon to be moving from our quiet cul-de-sac to a busy A-road with a 50mph limit. As Poppy likes to explore outside I have real concern's that she will wander onto the road and be injured or killed. Keeping her as a house cat (which our other cat is) is not an option! It is a very reluctant decision but one I feel necessary given the location of our new house.
We are asking for a £50 re-homing fee to ensure she goes to a genuine and loving, forever home. We are situated in Farnborough, Hampshire. To discuss or ask any questions please call Claire on 07793 208271 or email c.sambourne@live.co.uk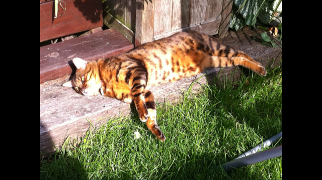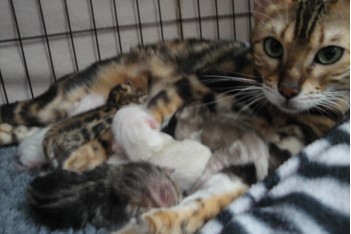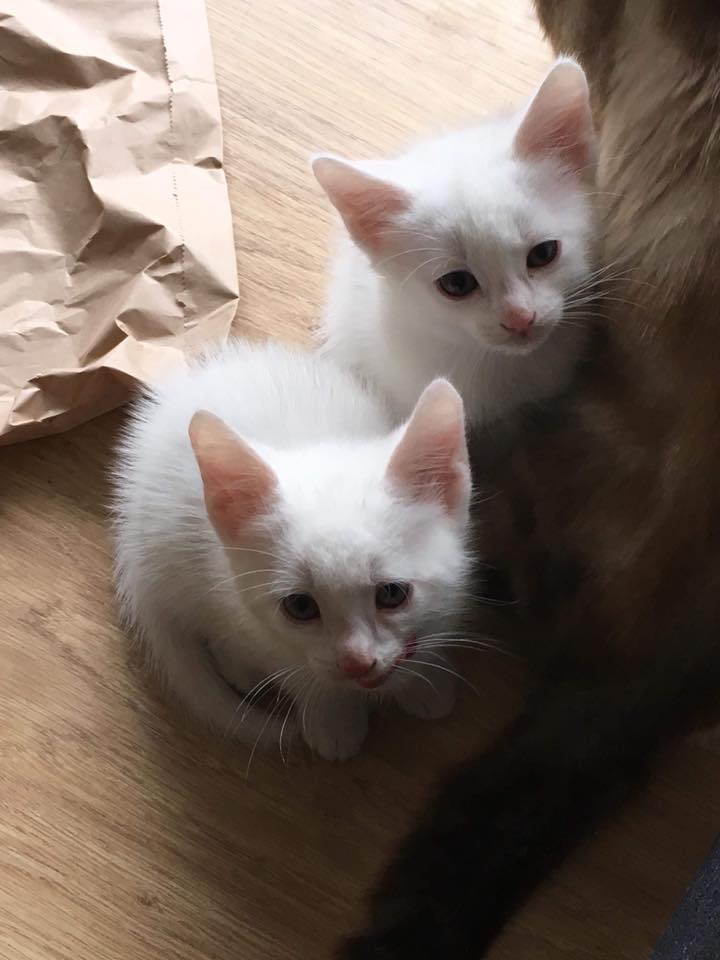 SUCCESSFULLY REHOMED
Forever Homes Needed
In the care of the Bengal Cat Association we now have Luna and her 5 kittens (she's unsure who the baby daddy is). Luna is a snow marbled Bengal, she was handed into vets, having been found wandering around Lenton Abbey Industrial Estate in the Nottingham area. She was already pregnant bless her. At the time she was checked for a chip and didn't have one. She's approximately 2 years old. A lady at the vets took her home so that she would have a nice safe place to deliver ...her adorable litter. Sara is now leaving the country to work so we were asked to step in to help.

Luna and her 5 babies are now with a Foster Mum Annette, who adores them. We're happy to say that Luna will be staying with Annette forever.Kittens will be needing forever homes though when they are old enough to be homed at 13 - 14 weeks old. Luna's a fantastic Mum and they're all doing really well!
We are currently in contact with various vets so that we can work out an adoption fee.
We are not profiting from this as a Breed Club, from an ...ethical point of view the adoption fee will cover.
A: Spayed/Neutered
B: Fully Vacinated
C: Wormed
D: Flea Treated
Thank you to everyone who has enquired so far
If you are interested please contact
clare@butterflycatjackets.com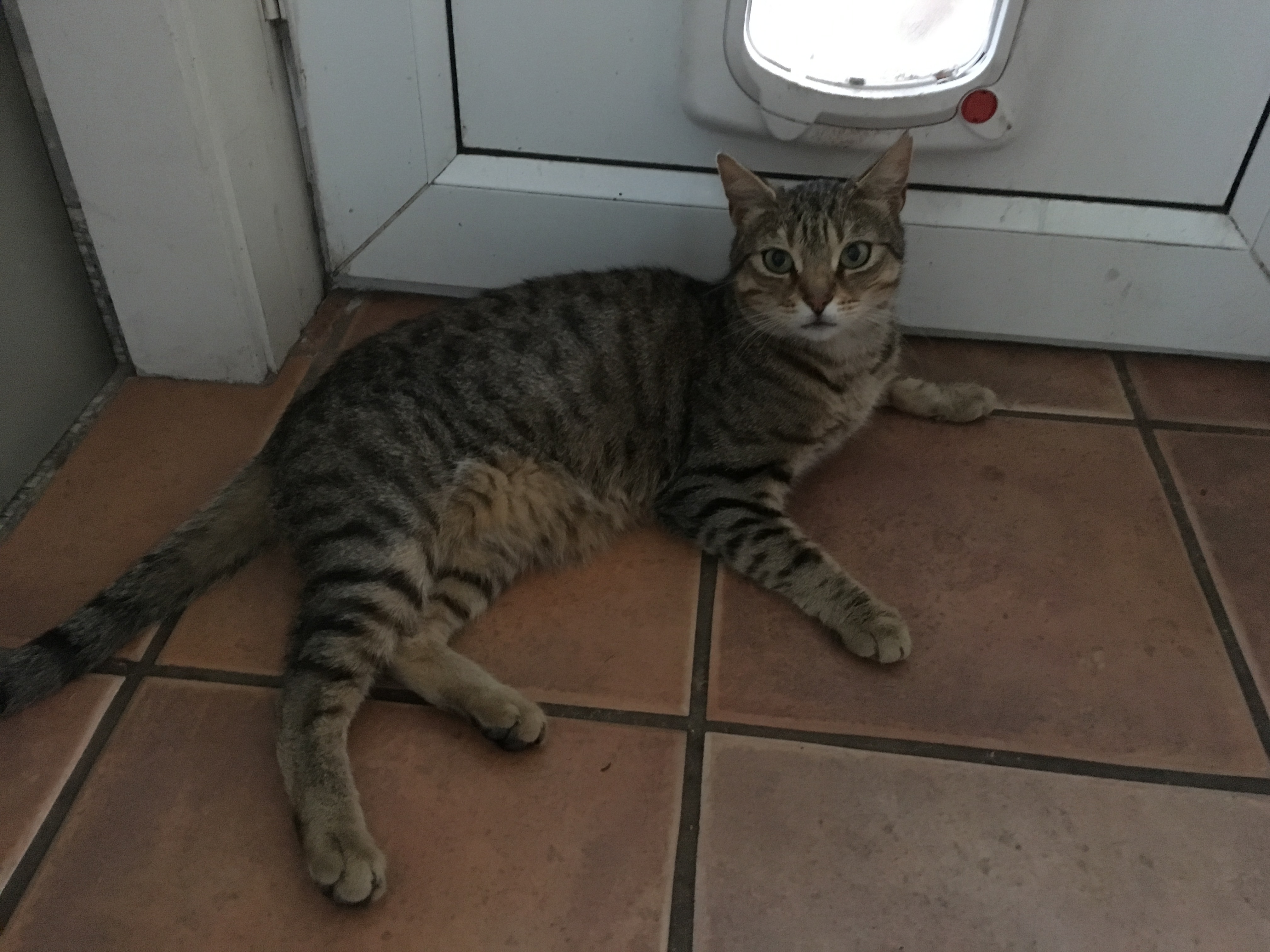 SUCCESSFULLY REHOMED
Forever Home Needed
This is Casper, he's 4 years old. He is very affectionate but can be either jumpy or a bit too playful.
Consequently he's scratched my 5 year old and she's now very frightened of him. He loves to explore outside but also likes to find cosy places to sleep indoors. We have a dog and they get along but mostly ignore each other.
I don't think he gets on with cats. He likes to be involved with what your doing.
We would really like to find him a home where he will be able to stay happily forever, we'll be sad to see him go.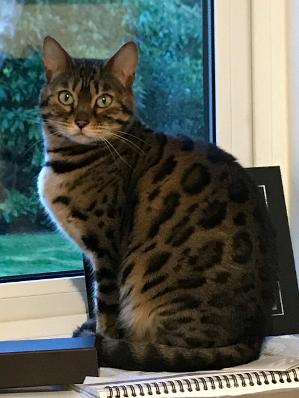 SUCCESSFULLY REHOMED
GORGEOUS BENGAL NEEDING FOREVER HOME

There has sadly been a change in her owners family circumstances which mean that they are no longer able to keep Silky as their family pet.

"Silky has been such a wonderful addition to our household and is very much loved by all the family, but unfortunately due to our circumstances we just wont be able to keep her anymore. Silky is approximately 4 years old, and is a retired breeding cat. Her temperament is wonderful, she is great with young children (from age 1 through to age 8!) and has been very adaptable to a busy family life. She will often seek out the family to be involved in whatever is going on, whether it's in the garden, the lounge or snuggling up on a bed. She also is very happy snoozing in front of the fire or a spare lap."

If you feel you could give Silky a forever home please email her owners.


SUCCESSFULLY REHOMED
Forever Home Needed
We are located just outside Southampton and are looking to rehome our beautiful 4 year old female Bengal called Nubia. We have had her since a kitten but during the last year she has started being bullied by her sister and our neighbours new cats which is making her very anxious. We feel she would be much happier in a home without other cats. She is really intelligent and curious and will fetch and bring back toys like a dog She is affectionate and chatty and loves to be petted and cuddled and to curl up on your bed at night. She is approx 4kg, spayed, microchipped and all vaccs are up to date.
If you could offer Nubia a loving forever home please contact The Bengal Cat Association Welfare at the email address below.
damianwhalley@gmail.com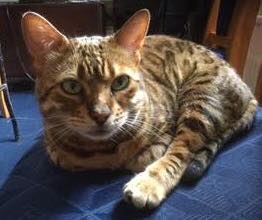 SUCCESSFULLY REHOMED
FOREVER HOME NEEDED
Amber is a gorgeous 5 year old spayed female Bengal who needs a new forever home.
She is microchipped, has no current health issues and her vaccinations will soon be up to date.
She will only drink running water and has a water fountain.
She eats Royal Canin and has never touched wet food.
She currently has access to outdoors but does not wander far so would preferably be able to do so in her new home.
Amber loves people, she is very vocal and loves to jump into your arms.
As a kitten she lived with an older cat but is currently quite fearful of other cats.
Ambers issue and the reason why she is regrettably being rehomed is because of her overt jealous reaction towards a toddler member of the family.
Amber would not be suitable for rehoming to a family with young children but would be fine with older children.
Amber is currently located in Devon but the owner is willing to travel with Amber to her new home.
For more information or to express an interest in rehoming Amber please contact her owner via the email address below.
S.harris41@btinternet.com
SUCCESSFULLY REHOMED
TWO GCCF REGISTERED BENGAL BOYS IN NEED OF NEW HOME TOGETHER
Sam and Frodo are 11 year old neutered male Bengal cats who are brothers from the same litter and have always lived together. They were bred at Tobysden Bengals. Due to family bereavement, they are in need of a new home. They are a beautiful pair of cats; Sam is the more placid one and likes to be stroked often and is happy being handled whenever. When Frodo wants attention he likes lots of it and has a loud purr! They are both go outdoors although rarely venture further than a few gardens away. They sleep indoors and have been kept in at night all their lives without a problem. They have lived with a 3 year old boy since his birth and simply ignore him. They have never lived with other pets. Both have been neutered and and have had yearly vaccinations every February. They are both fit cats for their ages and neither have any long term health conditions and are on no medication. They eat a mixture of dry and wet food.
The boys are currently living in a cattery in Telford pending return to their breeder. The price of £50 is for both cats who must be rehomed as a pair.
Please contact : Susan Moreland Email : tobysdenbengals@hotmail.co.uk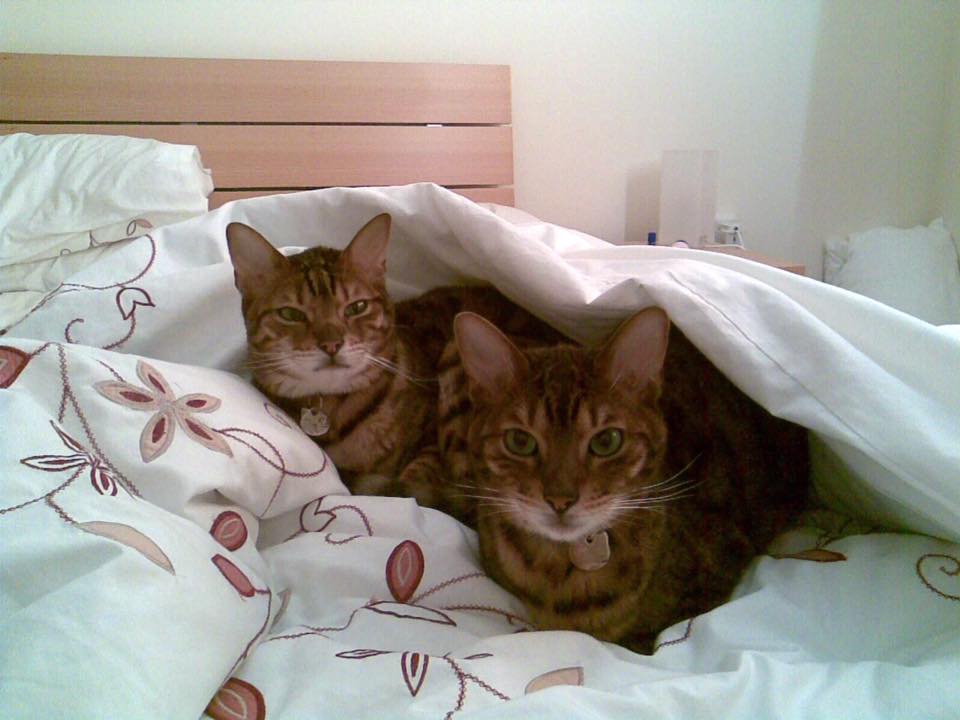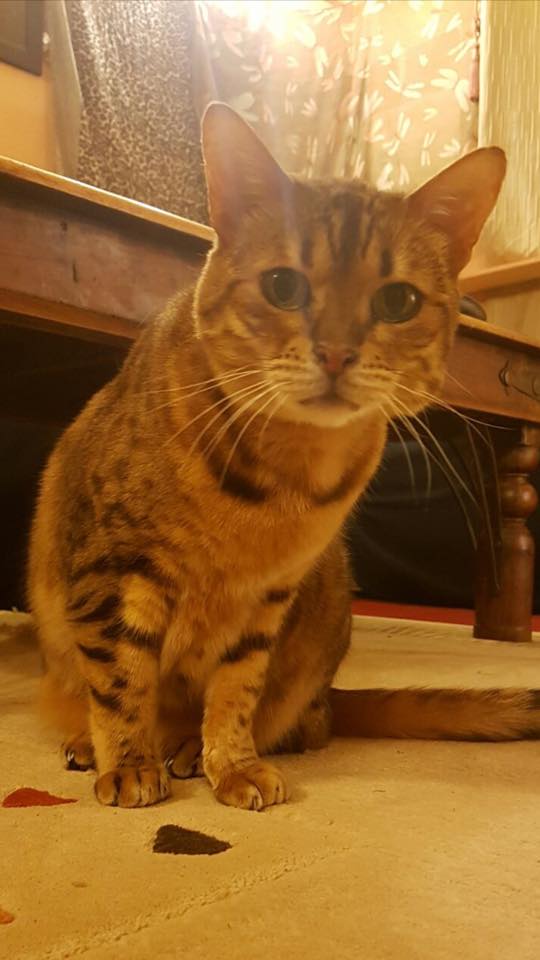 SUCCESSFULLY RE-HOMED
BEST WISHES TO MARGARET AND ELSA
BEAUTIFUL BENGAL NEEDING FOREVER HOME
Bengal girl needing a furever home due to her owner passing away

😢


She is from Carshalton Surrey in the Uk
The family are wanting to find their mums much loved kitty a loving safe forever home. they can't keep her as they already have cats that won't accept her.
Her name is Elsa, she is a 9 year old pedigree Bengal
She is spayed and Micro chipped .
She has a very sweet nature and does not scratch or bite
She has lived with other cats before but would probably prefer not to
She is an outside cat but has recently been staying inside. We do not know if the is due to her owners death or other cats bulling her outside. Because of this she will need access to a litter tray at the moment
She plays fetch with rolled up paper or balls
If you are interested in offering this beautiful girl a loving permanent home please get in touch and we will be able to give you more details