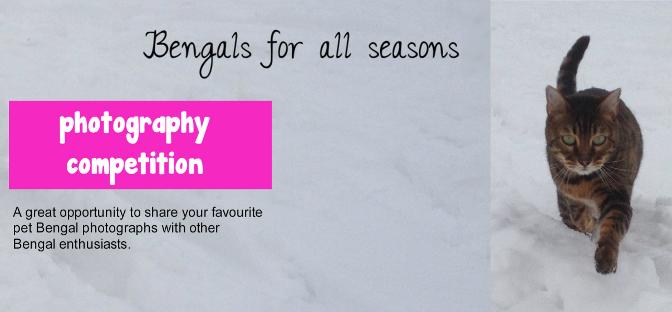 Rules
1. All fully paid up members of the BCA can enter by submitting one photo / month of a registered Pet Adult Bengal (neutered) or Breeder members can submit a a photo of registered a kitten / kittens (under 9 months old) by email to the Competition Secretary. (ann.m.finch@btopenworld.com)
2. Photos must be in JPEG format and sent as an attachment.
3. Photos must be different each month. By submitting the photos you are giving the BCA permission to use it.
4. Members must own the photo or have written permission form the owner to use it. Not copywrited or water marked.
5. Must state full Pedigree name of the Bengal Cat. The cat must be a registered Bengal.
6. The photos will be posted in an album on the BCA Facebook page and anyone will be eligible to vote.
7. Anyone who is found to have paid for votes will be disqualified.
8. Photos received in June will be used in July and so on each month. This enables time for voting.
9. Entries will be from the 1st to the 28th of each month. Only votes received during the relevant month will be eligible. Votes received after this date will not count.
10. The winner will be the photo of the cat with the most likes. The winner will be announced on the BCA Facebook page on the day after the end of the month.
11. Members who send offensive of inappropriate content will be removed.
The 12 most liked photos will be printed in the Clubs Calendar.
This year 2016 each month will have 2 winners to enable a calender to be printed in time at the end of the year.