Hector
I'm looking for a new home…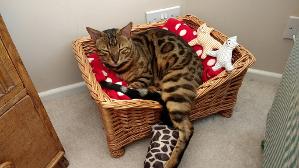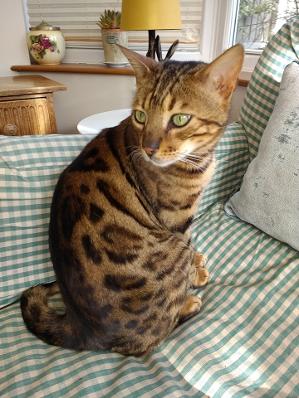 About Hector
Area: Breed: Brown Spotted Bengal Age: 7 years Sex: Male Fee: £150
Hector is a brown, rosetted male. He was 7 on 20.4.19. He is neutered, microchipped, and fully vaccinated. He is TICA registered. He saw a vet every 3 months as a kitten and every 6 months as an adult for check ups and annual vaccinations. His behaviour at home is great, he is a smashing cat.
He is a bit of a creature of habit and likes to range outdoors for most of the morning, sleep in the afternoon, foray out again in evening, returning to sleep through the night around 10 pm. He is not a lap cat, but is very loyal and loves a good cuddle on his own terms ie: leading you to a favourite place so he has your undivided attention.
He is very intelligent, he can work out how to overcome obstacles and can unlock his catflap using both paws in unison. He likes his owners attention and companionship. He's happy to follow his owner anywhere, he likes to help out and can obey basic commands.
Hector can be aggressive to neighbourhood cats and that is the reason for re-homing him. This aggression can be just a scrap or the cause of more serious injury. It's occurred on and off during the last 3 years, and seemed to coincide with events at home such as his brother going missing. He currently lives with another cat he has know since she was a kitten, who he pounces on from time to time but mostly they greet each other and get along. We live in an area with lots of cats. Before I moved here, Hector didn't get into trouble.
I think he would be happier in a less cat dense area, such as on a farm or in a very rural location. He would prefer to be an only cat, getting lots of attention, somewhere he could follow his new owner around. He is good with children, people in general and an angel at the vets.
He is a really lovely character and I am heartbroken to give him up, but I think he would be happier in the long run .
Re-homing fee £150.00
For more information or to express an interest in Hector please email: anjdooley@aol.com